Auction In-Room Video, AV & Presentation Services
platinumHD has been producing the media for the biggest in-room auction in the southern hemisphere - The Ray White Surfers Paradise Group's Event - for almost a decade.
In the world of in-room Auctions, The Event needs no introduction; up to 150 properties filmed and taken to the floor in front of an audience of over 1,000. Up to three auctioneers working the stage in an auction lasting up to 8 hours. The pressure on the show-runners is intense.
The media for The EVENT literally involves more than 1,000 moving pieces, from animations like Open For Bids, On The Market and SOLD, through to property videos and montages.
From smaller in-room auctions to Evenings Under the Stars Our Executive Producer Linda Clements works alongside Queensland's leading auctioneers and speaks their language.
Today, we have a team dedicated to building, running and managing in-room auction events and ensuring the audio visuals run smoothly on the night. Our's is a turnkey solution. From supplying AV to creating formats and building and running presentations. Whether the presentation consists of simple slide-shows, re-editing your material or shooting dedicated videos, platinumHD has a solution. We can work with your AV or our own.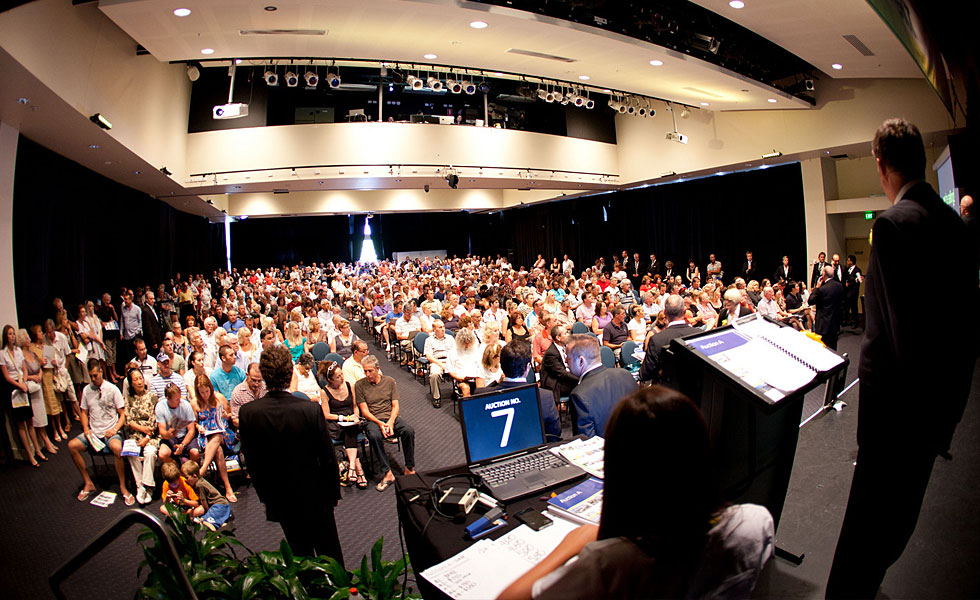 platinumHD has a wealth of experience in producing and running both big and small in-room auctions. We're especially proud of the work we have done on the super auction - Ray White Surfers Paradise Group's EVENT over the years.
We've filmed hundreds of on-site auctions over the years. Learning where to place cameras, what to film and, more importantly, what not to film, is key, especially when it comes to the general public and a million dollar sale on the line.
Auctioneers. They bring a certain sense of celebrity and pageantry to the sale. The good ones are worth their weight in gold, playing audiences and bidders like a Stradivarius violin. Whether it's a backyard auction or a black-tie event, we've filmed hundreds of Auctioneers bringing the hammer and the house down.
GIVE YOUR PROPERTY THE SUPER STAR TREATMENT
"
I have personally been using the Gold Coast Platinum HD Teams services for over a year now from ground photography to drone videos. The team have provided a one stop shop for my listing requirements (voice overs, video, editing and still photography for internet and newspaper advertising). I have recently decided to join the leading real estate agents wanting to produce advertising videos that are out of this world, standing out from the rest. I can proudly say the Gold Coast Platinum HD team have delivered on this request and will no doubt continue creating the outstanding quality that I have now become accustom to. Thank you for being amazing!
"
"
The video captures the unit perfectly; the cameraman is to be congratulated on a fantastic job, and the voice over is amazing! A very happy client!
"
"
Brett Clements and his crew at platinum were responsible for filming my last fight at Melbourne's Hisense arena late 2012 for a documentary I plan to release. They also filmed the lead up training camp, including the final press conference and the weigh in the day before the fight. This was a world title fight and at times was a pressure cooker of an environment, with patience and personalities tested to the maximum, and Brett and his crew not once were a distraction, contrary to that, they blended in with us so seamlessly it was if they were part of the team! They also flew to Perth a month after the bout to film more interviews for the Doco. Brett and the team were always very professional and accommodating to our requests/requirements, and Brett's filming and creativity were matched only by his passion and enthusiasm. Brett has a gift of capturing 'the moment' and putting it on screen. I can vouch for these guys if you are proposing to hire them for a gig.
"
"
I've known of Platinum HD's work for some time through their high quality Architectural photography used for marketing prestige residential properties for sale on the Gold Coast. Recently I've had the pleasure of working with Brett and his team to photograph and video several houses that I've designed, creating stunning promotional videos for my use. His extensive background experience in TV working on both sides of the camera and in production is evident in the professional approach he takes to his work, whilst his enthusiasm and appreciation of design results in beautifully crafted presentations. I would highly recommend Platinum HD to anyone wanting slick and edgy marketing video production.
"
"
We knew to achieve strong off the plan results for the sale of the new Miami One Apartments we would need a strong marketing campaign that truly represent the building to take place.. Brett and his Team provided us cutting edge rendering, state of the art photography and a short film length video clip of why the Miami lifestyle is paramount to so many. As this was my first large scale project of this kind, I was heavily advised and directed by Brett and the team in to what would work best. I have no doubt that Brett's work helped achieve a sellout of the building prior to completion!
"