Auction In-Room Video, AV & Presentation Services
platinumHD has been producing the media for the biggest in-room auction in the southern hemisphere - The Ray White Surfers Paradise Group's Event - for almost a decade.
In the world of in-room Auctions, The Event needs no introduction; up to 150 properties filmed and taken to the floor in front of an audience of over 1,000. Up to three auctioneers working the stage in an auction lasting up to 8 hours. The pressure on the show-runners is intense.
The media for The EVENT literally involves more than 1,000 moving pieces, from animations like Open For Bids, On The Market and SOLD, through to property videos and montages.
From smaller in-room auctions to Evenings Under the Stars Our Executive Producer Linda Clements works alongside Queensland's leading auctioneers and speaks their language.
Today, we have a team dedicated to building, running and managing in-room auction events and ensuring the audio visuals run smoothly on the night. Our's is a turnkey solution. From supplying AV to creating formats and building and running presentations. Whether the presentation consists of simple slide-shows, re-editing your material or shooting dedicated videos, platinumHD has a solution. We can work with your AV or our own.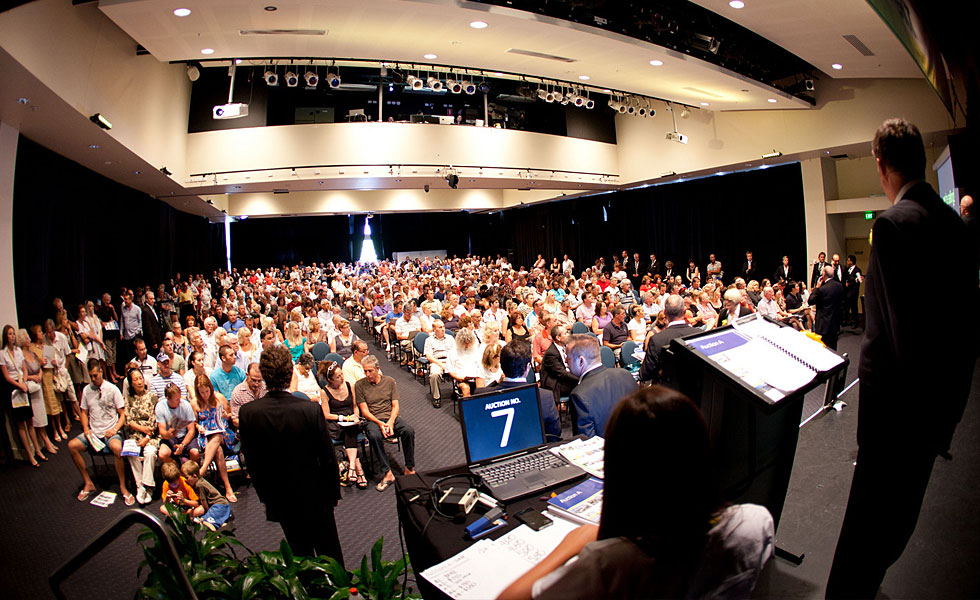 platinumHD has a wealth of experience in producing and running both big and small in-room auctions. We're especially proud of the work we have done on the super auction - Ray White Surfers Paradise Group's EVENT over the years.
We've filmed hundreds of on-site auctions over the years. Learning where to place cameras, what to film and, more importantly, what not to film, is key, especially when it comes to the general public and a million dollar sale on the line.
Auctioneers. They bring a certain sense of celebrity and pageantry to the sale. The good ones are worth their weight in gold, playing audiences and bidders like a Stradivarius violin. Whether it's a backyard auction or a black-tie event, we've filmed hundreds of Auctioneers bringing the hammer and the house down.
GIVE YOUR PROPERTY THE SUPER STAR TREATMENT
"
It is one of the most fun and joyful parts of my role, to provide a glowing testimonial on my personal and professional relationship at working with Brett, Linda and the entire crew at Platinum HD. Brett is nothing but a creative genius, with the commitment and dedication that transcends even the concept of going 'over and above' for a client. With projects ranging in value from $40M to $550M, we sometimes (often) hold a vision that is confusing, overwhelming and with moving goal posts across the various pieces of marketing collateral we're aiming to create. It is Brett and his teams delight to deliver clarity and perspective and bring these projects to life – in a way that blows us and everyone that comes into contact with the projects – away! The man never sleeps! It is an absolute pleasure to provide both a personal and commercial testimonial for Platinum HD. In my experience, Platinum HD deliver – beyond what was thought possible! In my experience, Platinum HD hold incredibly high values around being transparent, about operating in integrity and ensuring the process is fun for everyone that is involved.
"
"
There is not a Company that we're associated with I would endorse more readily.
"
"
If it's of value to your business for people to know you before they have met you in person, these guys have the goods. It's up to you if you are worth knowing!
"
"
Wow, it's been more than 12 years now since I first met Brett and Linda Clements of PlatinumHD. My how time flies when you're having fun, and it's always been fun when working on sight with the PlatinumHD team. Not only do I have huge respect for their creativity and quality video production but I also admire Brett and Linda's outstanding work ethic and enthusiasm in providing the best possible service for their clients. I've stood shoulder-to-shoulder with Brett Clements at 4:00am in the morning and 8:00pm at night to ensure we covered the best quality lighting to present some of the finest homes for sale on the Gold Coast. In essence Brett and Linda make me look good in the market place and this is paramount for my career as a leading Gold Coast Prestige Property sales and marketing agent. But more importantly, PlatinumHD produce high-calibre marketing videos to make the properties I sell stand out for my clients. Selling lifestyle is key and Brett certainly enhances the 'sizzle in the steak'. Let there be another 12 years of mutually beneficial working relations. Thank you Brett and Linda (aka Pony).
"
"
As the Operations Manager at Chadwick Real Estate, I worked closely with PlatinumHD on our corporate Real Estate videos. The quality and execution was 2nd to none. They knew exactly what we needed and the whole process was seamless.
"